B.A. LORIANA II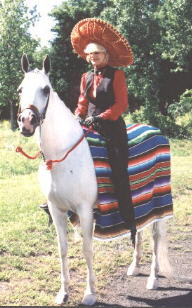 Pam & Loriana
Photo by
Michael Perticone
Loriana is enjoying retirement these days and loves being pampered by her best friend, 5-year old, Lauren Wedgwood. Lauren is the daughter of Dawn and Larry Wedgwood, long time owners and exhibitors of Arabian horses.
Lauren is able to feed, water, bathe, and groom Loriana, on her own. Lauren will be showing Loriana in Walk-Trot classes in 1999.
Below are some pictures from their last show in 1998.

Copyright 1999-2000 Web Site Design Associates All Rights Reserved