*DELERIO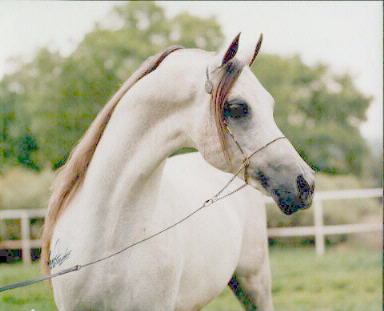 *Delerio (Bambu x Lira) is a pure Spanish Stallion siring American Champions! *Delerio is the only pure-bred Arabian Spanish Stallion in the United States sired by the great Spanish military stallion Bambu, who was the sire of Scottsdale Champion, Spanish, Canadian and United States National Champion Mare *Abha Hamir.
"Delerio's disposition and trainability showcase the best of Spanish breeding", says owner Susan Seligman. "I learned to ride on *Delerio and that says a lot for a stallion. He loves the show ring, but also enjoys a good trail ride." Delerio's foals are also winning in the show ring. "Beylaria" (*Delerio x Offira Bey by Bey Shah) was the 1997 IAHA Futurity National Champion English Pleasure Junior Horse.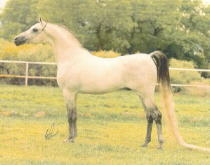 *Delerio
*Delerio is an International Champion!
- U.S. National Top Ten Show Hack -
- Scottsdale Show Hack (unanimous) -
- Region VIII Champion Show Hack (twice) -
- Region IX Reserve Champion Show Hack -
- Regional Top Five Halter Stallion -
- Reserve Junior World Cup Stallion -
- Reserve Junior Spanish National Champion Stallion -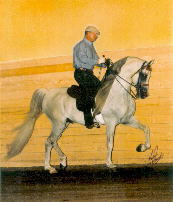 *Delerio
(Bambu x Lira)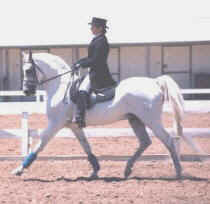 Susan & *Delerio in the warm-up ring at a recent show
*Delerio Get

Delores
(*Delerio x *Carla SSB)


Beylaria
(*Delerio x Offira Bey)

IAHA Futurity/Maturity National
Champion Country English Pleasure Junior Horse


Del Rio Star
(*Delerio x RA Timna)

1996 Region VIII
IAHA Sweepstakes Top Five
*DELERIO

Bambu

Maquillo

Gandhy

Ursus

Gomara

Famula

Nana-Sahib

Sara

Ocalina

Sirio IV

Sirio III

Armida

Farina

Kashmir

Lampara

Lira

Dandi II

Congo

Ilustre

Triana

Galatife

Gandhy

Veracruz

Escarcha

Zancudo

Congo

Yaima

Zarza

Congo

Ocalina
*Delerio is owned by
Susan Seligman
574 Black Bear Road N.E.
Albuquerque, NM 87122
Phone: 505-856-6807
Fax: 505-823-2712
E-mail: Susan Seligman
Copyright © 1999 Web Site Design Associates All Rights Reserved