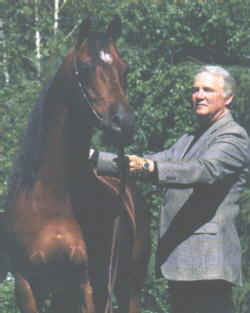 "I am sure that others dealing with more horses could better address the "business of stallions." However, we would like to share some of the things we feel are important in making a decision to keep and stand a stallion," says Jim Maroney. "A stallion must, first and foremost, have the personality to be a stallion. He must not fuss and worry because he is a stallion and he must take comfort in his living situation. He must accommodate the resources of his humans - if they can only afford an electric fence for him, he must respect an electric fence. Secondly, a stallion should have enough to contribute in beauty, structure, and talent to make the extra management considerations worth the trouble and expense. Third, and finally, the stallion must demonstrate a capacity to sire those qualities for which he is admired.
"At Ennistymon we place an emphasis on having a lovely setting in which to admire the horses. We have a monkey, some camels, an aviary, and a fishpond to enhance the experience of coming to the farm. Horses that are compatible with camels can generally learn to navigate a trail class. We also prefer that the horses be "ears up" and affectionate with all humans, so there are always plenty of carrots on hand for the many groups that come to the farm to learn about the animals. We have had school classes, 4-Hers, clubs, elder hostel participants, scouts, foreign exchange students, and horse lovers come to the farm in the last year and we were gratified by their appreciation of the beauty and gentle nature of our horses.
"Both Sensational Bey (Bey Shah x TW Forteyna) and KS Beywatch (Sensational Bey x KS Siroune), 1998 U.S. National Top Ten Futurity Colt, are real hams during presentations. Both are animated, elegant, powerful, and athletic when their turned loose to "do their thing." They are also kind and responsive horses who are compatible with each other.
"Sensational Bey has proven to be a marvelous sire with a high percentage of champions in both halter and performance. Not only did Beywatch go Top Ten in 1998, but Bey Sensation (Sensational Bey x Spring Symphony ASB) was Canadian Reserve Champion Half-Arabian Mare Stock/Hunter, and the evening before she went U.S. National Top Ten Half-Arabian Mare, she was named 1998 U.S. Reserve National Champion Half-Arabian Hunter Pleasure Junior Horse. Beywatch is at Stachowski Farms where he is being prepared for performance in the English division. He will stand there for the 1999 season. His semen ships very well.
"Sensational Bey, whose semen does not ship well, does just fine settling mares by natural cover (which he likes a lot better anyway). The limited amount of stalls we have at Ennistymon sets a natural limit on the amount of mares Sensational Bey can breed. That will hopefully enhance the value of his foals.
"At Ennistymon, we try to be very honest when evaluating and pricing horses. We point out the negative qualities as well as the positive. We appreciate those in the Arabian business who treat us with the same candor. Ralph Sessa and Cory Soltau of Blackhawk Valley have been very honest and helpful over the years. Jim and Peter Stachowski have been similarly forthright and productive for us. Our experience with the Gallun-Heathcott team was very positive and John Rannenberg of Rohara Arabians was cordial and helpful at the U.S. Nationals. Wendi Snook has done a super job with our performance horses. We have also had some bad experiences in this business and we will not participate in the "win at all costs" mentality.
"We invite everyone to come visit Ennistymon and enjoy our horses. We always know where there is a good horse for sale, but we really like to share the Arabian experience with others."
Sensational Bey

Bey Shah

Bay El Bay

Bay-Abi

Errabi

Angyl

*Naganka

Bad Afas

Najada

Star of Ofir

*Bask

Witraz

Balalajka

Llana

Ga'zi

Zaryn

TW Forteyna

*Fortel

Como

Witraz

Bona

Forta

Kuhilan Abu Urkub

Porta

Tapiola

Sur-Grande

Sureyn

Gran Via

Karelia

Fadjur

Surima
Ennistymon Farm
185 Leavitt Road
Oswego, New York 13126
Phone 315-963-3498
Fax 315-963-3621
E-mail Ennistymon Farm