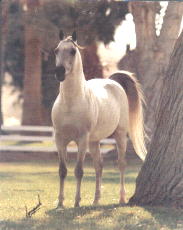 *GG Samir was the National Champion Junior Stallion of Spain and has sired both National and
Show Champions. His pedigree includes the
Spanish greats. Jacio, sire of *GG Samir, is also
the sire and grandsire of International Champions
which includes Hezina, Spanish Reserve National
Champion Mare, International Champion in the
1981 Nations Cup and World Champion Mare at
the Salon Du Cheval in Paris. *GG Samir has won the Get of Sire at the prestigious Scottsdale Show, proof of his success in America.
Wayne Newton acquired *GG Samir as a two year old when he received him as a gift from Jay Stream. Wayne soon introduced *GG Samir to the breeding barn and utilized him on mares he purchased from the Steen family and on his foundation mares that were largely Skowronek line stock.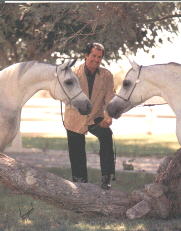 Pictured at right with Wayne Newton is WN Antigua (*GG Samir x Naborrs Joy) and *GG Samir.
*GG Samir Get hold numerous Show Championships and 21 National honors through March of 1998
His Get encompass a full spectrum of disciplines ranging from Halter to a variety of Performance abilities.
It has been our experience, that his Get and Grand Get, possess wonderful dispositions, athletic ability and function well in both Halter and Performance venues. They seem to possess all the traits that make them a wonderful addition to both breeding programs and family horses. A number of his get have been very successful in youth programs, once again attesting to the wonderful disposition that seems to passed to the next generations.
Listed below are ten *GG Samir Get that hold National Champion and
Reserve National Chamion titles:or Reserve National Champion titles. There are another 11 that have earned National Top Ten Honors.
LK MAMOUNAKI (x WN Pale Flower) -
1986 U.S. National Reserve Champion Western Pleasure
WN ANTIGUA (x Naborrs Joy)
1989 Canadian National Champion Mare
1991 U.S. National Reserve Champion Mare
WN BEN SAMIR (x Natique)
1987 U.S. National Champion Informal Combination
WN DIABLO (x WN Tinannsera)
1985 Canadian National Reserve Champion Futurity Colt
WN FELIZ (x WN My Joy)
1983 Canadian National Champion Pleasure Driving
WN FOREVER LOVE (x WN Araomana)
1985 Canadian National Reserve Champion Futurity Filly
WN KNIGHT RIDER (x WN Aralena)
1994 U.S. National Reserve Champion Western Pleasure
1996 Canadian National Champion Western Pleasure
AAOTR 40 and Over
1996 U.S. National Reserve Champion Western Pleasure
AAOTR 40 and Over
1997 Canadian National Champion Western Pleasure
AAOTR 40 and Over
1997 U.S. National Champion Western Pleasure
AAOTR 40 and Over
WN SAYDRA (x Pekin Goddess)
1989 U.S. National Champion Western Pleasure
WN SPANISH DANCER (x Sweet Gypsy Rose)
1995 Youth National Reserve Champion Halter Showmanship
JTH 14-17
1995 Youth National Reserve Champion Halter Showmanship
JTH 13 and Under
WN WAYSATA (x Oraluna)
1991 U.S. National Reserve Champion Ladies Side Saddle
Western