MARCHER
(Medalion x March Winds by Andreano)
Bred by Colonial Wood
1990 Bay Purebred Gelding, 15hh, Sweepstakes Nominated
Marcher offers the the serious English Country Pleasure rider a national caliber Open Horse with the mind and talent to carry an AOTR/JTR rider to victory as well. His abundant presence along with his extreme head and neck promise a winning halter career. The perfect package for the amateur with visions of roses in Louisville.
Complete Pedigrees and video are available upon request. For further information
contact Wendi Snook of Snook Training Stable 315-834-7495 or e-mail
Grandmist Arabians
TACK AND ASSORTED ITEMS FOR SALE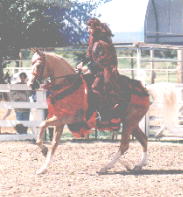 Arabian Native Costume
Custom made by Kellogg Arabian Costumes
red/black, complete riders outfit all SILK
all SILK, complete horse's attire.
Velvet/rubies/sequins/fringe, worn
6 times, storage box included.
Class "A" and regional Top 5 winner, asking $1,000. Call
716-330-9016 or e-mail mlshows@eznet.net for more information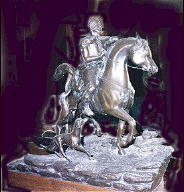 Bronze Sculpture
Robert Larum limited edition entitled "Hawking".
No. 8 of 18,
Certificate of Authenticity.
Appraised value $6,500.
For additional information contact
Sam Nicholas 716-268-5624 or
e-mail Grandmist Arabians .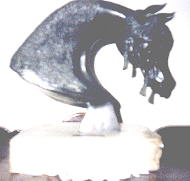 Bronze Sculpture
Kirsten Tollefson limited edition entitled "War Horse".
No. 4 of 30,
Certificate of Authenticity.
Appraised value $3,500.
For additional information contact
Sam Nicholas 716-268-5624 or
e-mail Grandmist Arabians