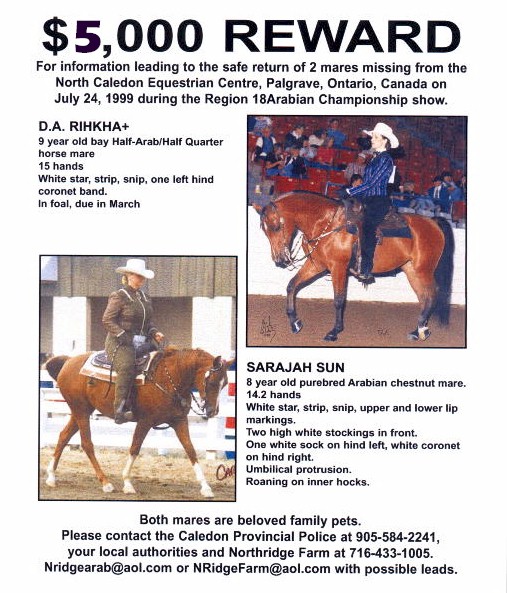 Saturday morning at approximately 6:00a.m., two mares (stabled side by side at the outskirts of the stabling area)were discovered missing from their stalls at the Region 18 Championship Horseshow, held at the Calendon
Equestrian Facility in Palgrave, Ontario Canada. We first thought that they may have escaped, but after discovering that 2 barn halters were missing from the farm stabled one aisle over from us and that a western saddle and bridle were stolen from a tack stall around the corner from the mares, and after several volunteers searched for hours on foot and horseback, we and the Ontario Provincial Police believe they were taken.
One mare had won a unanimous Championship, and the other a Reserve Championship the day before.

Their descriptions follow:

D.A. Rihkha+ - 9 year old bay half-arab(part Quarter Horse) mare, 15 hands, white star, strip, snip, one left hind stock. In foal, due in March.

Sarajah Sun - 8 year old chestnut mare. 14.2 hands, white star, strip, snip, upper and lower lip marking.
Two high white stockings in front. Two white socks in back.
A groom was asleep in a nearby tack stall and heard nothing. No security was provided at the showgrounds
and the stabling area was pitch black. I'd also like to add the show management was appalling unsupportive.
It took the long arm of the law to get even a little cooperation. They refused to announce that the horses were
missing!

Both mares are family pets, as well as successful show horses. A reward is offered for information leading to
the return of one or both of the mares.